Super Skunk



Strength

80%

Health

100%

Speed

85%

Jump

100%

Special Ability

Ability Uses

x2

Powered By 0000000000000000000-. - Chow

Yes

Cost

00000000000000000040. 40 Treats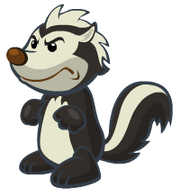 The Super Skunk is the most powerful pet in Wild Ones, with 100% hp, 80% speed, and 100% jump. The ability is Spray, which does 200 on-hit base damage and another 450 stench damage over 20 seconds, 45 every 10 seconds. The damage over time is still affected by power. The Super Skunk is so powerful that it requires feeding to prevent imbalance in the game, costing 25 Chow each game. You gain 1 every 3 minutes, or you can buy Chow from 0.12-0.2 treats apiece. You also gain 100 on level up.It's a very expensive pet but Hippo And Penguin are the most expensive pets.
Advantages
Edit
Incredible stats, a great ability, and the added ability to embarrass people with spray. Fall damage is fairly high due to the incredible jump, so you can easily earn the geronimo achievement with normal jumps.
It's possible to do over 1000 damage with the skunk's jump and teleporters if you are skilled enough and have maxed out strength stat points.
It is the best pet ever used to battle with.
Disadvantages
Edit
If you simply jump with the Skunk, you often take 10-20 fall damage from the sheer height. This can be an advantage if you land on enemies, though. Feeding can be very expensive, so it is not recommended to use the Skunk every game as it takes 5 hours for 4 games of food.
Cost Treats
Right key to move right, Left key to move left and Up key to jump. D key to move right, A key to move left and W key to jump.You can also use the mouse to point where to go. You move fast. Very, very fast.
Pets

Mammals

Reptiles

Birds

Marsupials

Human-Type
Ad blocker interference detected!
Wikia is a free-to-use site that makes money from advertising. We have a modified experience for viewers using ad blockers

Wikia is not accessible if you've made further modifications. Remove the custom ad blocker rule(s) and the page will load as expected.