This page is checked.

This page is checked on 03:33, December 30, 2011 (UTC), please add more data to this page if there is something new to this page to prevent getting outdated. We are welcome for more information and more relevant photos. This page meets Wild Ones Wiki standard and is informative to visitors.
Swamp is a new Map in Wild Ones.It was released on 21/5/12 as a part of unlockable weapons.This map is limited and cannot be made into private game or any different game mode except for
Point Match
.It is commonly used by hackers which break the fun on this exclusive map. The background and the map are very, very , very similar which can make confusion in some players and be stuck thinking that they're floating in the air. To play on this map you need to use

1
Twigs
, and also you get a 1 step further in permanently unlocking one of three exclusive weapons which
one of them can cause a victim to lose turn
. To get a point in unlocking weapons, the player
does not
have to win, just play although quitting the match will not award the player a point and will not bring back a
Twig
. The map is always set to 5 Minute game time and 20 second player time. Rewards are the same as on normal maps except the fact that you unlock weapons.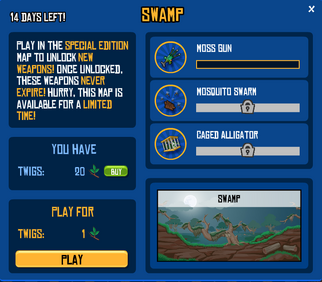 | | |
| --- | --- |
| Cost | Free |
| Released on | 21/5/12 |
| Expires on | 4/6/12 |
| Cost to play | 1 Twigs |
Advantages
Edit
None
Disadvantages
Edit
Easy to get stuck on the map.
Full of hackers (a.k.a. noobs) that use Kiwi's, Gamma Star's and Game Over Nuke's.
The background is very similar to the map so as said above - you can get stuck.
Limited time only.
This is the first Map ever to use an object (Twigs) and unlocks weapons.