Tiger is an new pet in Wild Ones.It's released 9/11/11. On 7/12/11 the neighor required was lowered down to 5.
Tiger's Stats



Strenght

Normal (80%)

Health

90%

Speed

75%

Jump

85%

Special Ability

Ability Uses

x2

Cost

Unlock by paying 30 Treats or by having 5 neighbours and 4,999 Coins, after that the Tiger is available for 4,999 Coins.

Notifications

This is the most violent pet in Wild Ones.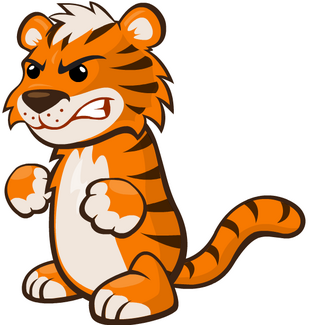 Right key to move right, Left key to move left and Up key to jump. D key to move right, A key to move left and W key to jump.You can also use the mouse to point where to go.
This is the first pet to be rated as "Inappropriate Content" because of its ability.
Like the Chainsaw , the Gas Gun, Poison Cloud, Butchers Knife, Katana Sword, Spear, Longbow, Bear Trap,Musketeer Sword, Tipi, the Tiger and its ability has been criticized for being too violent for young players.
Special Ability is Claw where the Pet is "Clawing" and then roaring the pet.
The ability can be use 2 Times per match.But you can't use this skill at Skill Match.
It seems its claws were being launched instead of a real scratching,this means it can be used even in a far place.
Tiger will be the 3rd Chow Pet.
Its ability makes the pet most violent in game.
Its ability icon does not match the color of the Tiger.
Its similar to Cat.
Is the first Chow Pet for Coins.
The Tiger and the Werewolf have the same stats.
Pet was the most anticipated of wild ones.
It is the first pet to be unlocked.
It's the third pet to has the highest stats after the Super Skunk and the Squirrel.
Video of tigers ability:Edit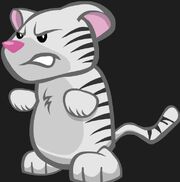 Tiger Modifications
Pets

Mammals

Reptiles

Birds

Marsupials

Human-Type
Ad blocker interference detected!
Wikia is a free-to-use site that makes money from advertising. We have a modified experience for viewers using ad blockers

Wikia is not accessible if you've made further modifications. Remove the custom ad blocker rule(s) and the page will load as expected.