This page is checked.

This page is checked on 03:33, December 30, 2011 (UTC), please add more data to this page if there is something new to this page to prevent getting outdated. We are welcome for more information and more relevant photos. This page meets Wild Ones Wiki standard and is informative to visitors.
This weapon is harmful to your health.

Tornado Grenade is a chemical weapon. Please do not overuse it because it will be very destructive and will make the game unfair.
The Tornado Grenade when used correctly is one of the most powerful weapons in the game and was released on May 27, 2010. This grenade releases a tornado that sucks any pets nearby and applies damage to them.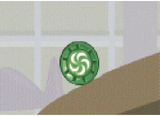 Information
Level to Unlock
Level 8
Unlock Cost
6 Treats (When you want immediate ammo)
Cost
3 Treats for 6 ammo
Max Cost and Ammo

297 Treats for 594 ammo

Members: 00000000000000099000.

99000 Coins for 594 ammo
Members
1000 Coins for 6 ammo
Damage
25 - 75 Damage constantly
Ability
May your opponents rest in peace!
Found In Crates
Bonus
No bonus
Icon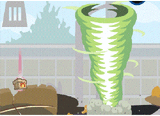 Advantages
Edit
It may receive fall damage if the player is lifted to a place which is hollow.
Useful for beginners.
Disadvantages
Edit
It usually can't create an OTK.
The tornado has its own programmed motion. Moreover, the tornadoes can pass through every border (i.e. up, left, right and down) of every map.
You can get more than 1000/2000 (depends on the pets joined) points when used on two or more close pets to each another.
If you are lucky, you can create an OTK.
Sometimes, if you shoot your opponent in his/her head, the Tornado will fly higher than usual.
When it is after your turn, no matter where the tornado grenade is, the tornado grenade will transform into a tornado. You might not kill a person if you expect the tornado grenade to land in some seconds which the tornado will be in the air but not the land.
Expect this weapon to be launched if there are two or three pets( or even up to five,of course excluding the launcher) are close to each other.
In fact being a grenade, its launcher is the same as the Missile's.