Tower Tops is the 13th map released in Wild Ones. It was released near 23rd of December, 2010. The map is not due to Season Greetings, is from a movie will be releasing soon called
Green Hornet
, in Chinese it is called 青蜂俠 (if you see "dinosaur text", just ignore it.).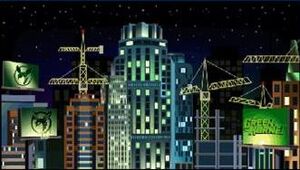 This map is on the construction site as you can see cranes.
You can see many Green Hornet logos on some apartments.
This map has little bit function like Sink or Swim map.
This is a special map for the Green Hornet movie, released something in January 2011.
This map was once called Green Hornet.
This map is no longer available but can be accessed if you type it's name to the private room.
Ad blocker interference detected!
Wikia is a free-to-use site that makes money from advertising. We have a modified experience for viewers using ad blockers

Wikia is not accessible if you've made further modifications. Remove the custom ad blocker rule(s) and the page will load as expected.