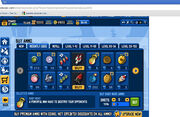 Treats Hack is a way of hacking Treats for so many as you want. This is an unfair advantage to paying players and Playdom itself. The story of this hack questions players if it's worth paying real money to Playdom. Currently none of the hacks work. All stories made by hackers that they have done it are false and attempt to steal your account when you tell a hacker your Email and Password.
General
Ever since the Treats and Hacker era began near end of 2010, everyone wanted free Treats and not pay money to Playdom. This also began a scam fest, which involved people in making fake Treats generators so they can earn money for downloads or even go as far as stealing your account. In 2011, after Fan Appreciation Week people used code for 15 Treat link to create many Treat links. In fact, this was the first ever working Treats Hack. It is not descrbed as hack tough, but "Unofficial Collectible". It is now patched and players who got maaaany links are lucky. In 2012, hackers completely swarmed the game and now are eager to find "the Perfect Treats Hack".
Ad blocker interference detected!
Wikia is a free-to-use site that makes money from advertising. We have a modified experience for viewers using ad blockers

Wikia is not accessible if you've made further modifications. Remove the custom ad blocker rule(s) and the page will load as expected.