Removed Content

This page contains information about Removed Content, thus Treats cannot be bought or legitimately obtained anymore.
Treats are currency used in Wild Ones. You can buy Pets and Weapons (including some in games) and you can also bet and sometimes win a laser or even more treats! Treats was introduced in February 12, 2010. It is worth buying treats because in some other games for 700 credits, they would want over $400-500. Before in Playdom you would get 10 treats when you started to play, but now you dont get anything.
Earning Treats
No Longer Available
Watching the Green Hornet Trailer will give you 5 Treats
Glitch
After Maintenance the bank has changed to a little bit "wierd" for minutes.
Sales

Pet Prices
130 Treats for $24.99 + both
Treats Sale:
Coin Sale
The Coins Sale are Limited Sale That Need to be Payed by Treats.Its also a Faster Way to Get Coins
1100 1540 Coins for 16 Treats
2200 3200 Coins for 33 Treats
4400 6600 Coins for 66 Treats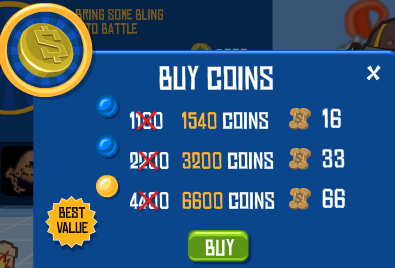 Ad blocker interference detected!
Wikia is a free-to-use site that makes money from advertising. We have a modified experience for viewers using ad blockers

Wikia is not accessible if you've made further modifications. Remove the custom ad blocker rule(s) and the page will load as expected.