This page is checked.

This page is checked on 03:33, December 30, 2011 (UTC), please add more data to this page if there is something new to this page to prevent getting outdated. We are welcome for more information and more relevant photos. This page meets Wild Ones Wiki standard and is informative to visitors.
Expired Content

This page contains information about Expired Content, thus Trophy Shower cannot be seen in the shop of Wild Ones.
Trophy Shower is a weapon in Wild Ones. When used, a group of trophies will airstrike. Then, the trophy may impact on the pets, causing damage. Then, the trophies explode but it will not inflict damage. After that, confetti spread out and it will explode two times to inflict damage.
"An airstrike of exploding Trophies"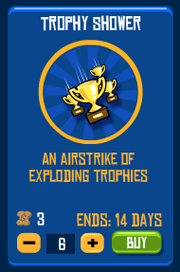 Icon
Cost

3 Treats for 6 ammo

Max Cost & Ammo

297 Treats for 596 ammo

Damage

00000000000000000100. 100 Damage trophy impact damage per time

0000000000000000300+. 300+ Damage (Confetti damage) (2 times)

Ability

Shots 12 trophies to your opponents.

Found in Crates
Released on
10th May, 2012
Expires on
24th May, 2012
Advantages
Edit
Relatively high damage and results higher points.
Disadvantages
Edit
Costs treats.
Using this weapon can sometimes make Wild Ones lag, in the YouTube video, you can see a little bit of lagging.
The trophies are most likely Grenades as one of the codes say "trophygrenade_ammo".