The
Turtle
is a new Mini Pet released on Wild Ones. It can be bought at the Accessories shop. The Turtle will help you out either by attacking other players, or by grabbing a Health Pack or a Crates for you. However, the Turtle is a somewhat fickle friend, and will not help you out every time.It was released on 2/2/12.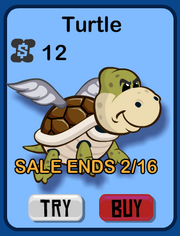 (this mini pet is missing one paw)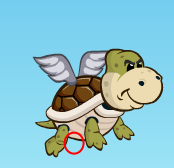 Ad blocker interference detected!
Wikia is a free-to-use site that makes money from advertising. We have a modified experience for viewers using ad blockers

Wikia is not accessible if you've made further modifications. Remove the custom ad blocker rule(s) and the page will load as expected.