Removed Content

This page contains information about Removed Content, thus Ultimate Weapon Pack cannot be bought or legitimately obtained anymore.
Ultimate Weapon Pack contains $40 worth of ammo which is around 200 Treats.It contains very strong weapons and sometimes very weak. It is available for Members only and costs 66 Treats which is 4 Treats less than Weapon Super Pack.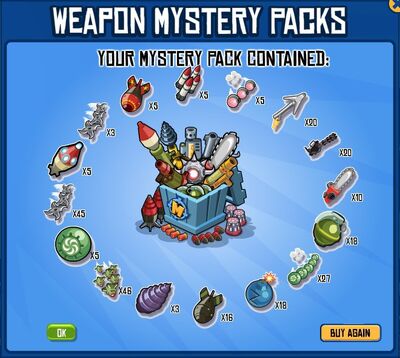 Dark Green

 - Ultimate Weapons

Green

 - Strong Weapons

Yellow

- Good Weapons

Red

 - Weak Weapons

Blue

- Helpful Weapons/No damage Weapons
x5 Missile Streams

x5 Rubber Grenade Trios

x20 Harpoons

x20 Miniguns

x10 Chainsaws

x18 Grenades

x27 Tornado Clusters

x18 Impulse Bombs

x16 Nukes

x3 Drill Missiles

x46 Mine Showers

x5 Tornado Grenades

x45 Mega Ninja Stars

x5 Anti-Grav Missiles

x3 Ninja Stars

x5 Game Over Nukes

x6 Anvils

x3 Baby Nukes

x20 Mallets

x9 Baker's Dozens

x15 Anti-Grav Missiles

x6 Teleporters

x3 Cluster Missiles

x36 Mega Mirvs

x23 Rubber Grenade Showers

x23 Mega Napalms

x35 Grave Diggers

x5 MIRVs

x3 Gamma Beams

x6 Baby Beehives

x27 Kiss GoodByes

x6 Baby Globguns

x5 Kamehameha Waves

x5 Globguns

x3 Drill Clusters

x23 Mine Showers

x15 Mega Nukes

x20 Invisibility Potions

x3 Baby Napalms

x5 Quintuplets

x9 Blizzards

x3 Grappling Hooks

x10 Tornado Grenades

x72 Mega MIRVs

x36 Starfields

x23 Goo Showers

x20 Chainsaws

x8 Gamma Rays

x20 Missile Streams

x3 Dynamites

x6 Gamma Stars

x10 Mine Clusters

x3 Jumbo Missiles

x3 Anvils

x18 Bakers Dozens

x20 Earthquake!s

x3 Baby Nukes

x23 Mega Cluster Grenades

x27 Mega Goo Globguns
Advantages
Edit
Disadvantages
Edit
Costs Treats.
Members only.
It Membership cost is added to the price then it costs more.
Ad blocker interference detected!
Wikia is a free-to-use site that makes money from advertising. We have a modified experience for viewers using ad blockers

Wikia is not accessible if you've made further modifications. Remove the custom ad blocker rule(s) and the page will load as expected.