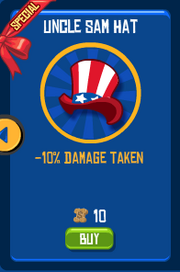 Uncle Sam Hat is an accessory in Wild Ones.
Cost

10 Treats

Bonus

Old Bonus: +15% Gamma Damage (Needs all 3 items). +15% Gamma Damage (Needs all 3 items)

New Bonus:0000000000000000-10%. -10% Damage Taken

Found in Crates
Released in:

Unknown, 2010

June 27th, 2012

Expires on:

Unknown, 2010

It does not Expire.
Advantatges
Edit
Disadvantatges
Edit
Some players get accidentally banned when it was released again, like when Playdom released accidentally Fishing Top.
After the bonus change, the full set still changes the color of Laser Weapons.
Ad blocker interference detected!
Wikia is a free-to-use site that makes money from advertising. We have a modified experience for viewers using ad blockers

Wikia is not accessible if you've made further modifications. Remove the custom ad blocker rule(s) and the page will load as expected.