Unreleased Content

This page contains information about Unreleased Content, which may be inaccurate or change over time.
Incomplete... :(

This page contains information about Inaccurate Content, which means that the item is not fully done which might change over time.

Unknown is the Father of all weapon in Wild Ones it can replace non existed sprites (if the weapon is not on sprites).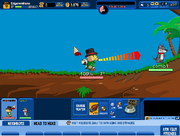 It is hacked in WPE Pro.
The name is unknown the code is also unknown.
The code is "unknown".
It looks like Yin and Yang symbol.
This Weapon can be hacked by Changing Bone to Spit.
This Weapon Will Explode with an Kamehameha Wave Rock Effects and Sticks Like a Rubber Grenade.
It is slightly known that the weapon's function is Rubber Grenade.
This weapon also shows when you port with fiddler and you port a non existing sprite (which unknown will replace to it).
Also this is the OOPS weapon if you change grenade to x99nade.[?]
Video of Unknown
Edit
Ad blocker interference detected!
Wikia is a free-to-use site that makes money from advertising. We have a modified experience for viewers using ad blockers

Wikia is not accessible if you've made further modifications. Remove the custom ad blocker rule(s) and the page will load as expected.