Unreleased Content

This page contains information about Unreleased Content, which may be inaccurate or change over time.
Unreleased Accessories
are Accessories that were
Never
in a shop before.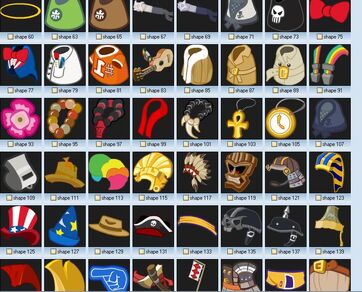 Biker Coat with Belt
Hawaiian Shirt
Necklace
Playdom Shirt (Green)
Playdom Shirt (Brown)
No.1 Shirt
Detective Shirt 1
Detective Shirt 2
Rainbow Belts
Flower
Wristlace
Tiki Necklace
Necklace with something like a horns
Old Pocketwatch
Rainbow Afro
Tiki Mask
Explorer's Hat
Yellow Sports Bandana
Biker Helmet 1
Biker Helmet 2
Yellow Mohawk
Prisoner Shirt
Blue Sandals
Black Sandals
Pointing Finger
Wood Axe
Dark Glasses 2
Red Glasses
Nerd Glasses 2
Overalls
Ad blocker interference detected!
Wikia is a free-to-use site that makes money from advertising. We have a modified experience for viewers using ad blockers

Wikia is not accessible if you've made further modifications. Remove the custom ad blocker rule(s) and the page will load as expected.