hahahaha lol jcrv said he will be staff and made himself a fake msg: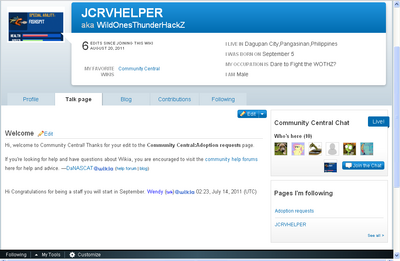 but he failed... staff saw this and they write
Hi JCR. I'm really glad to see you're enthusiastic about being more involved in the Wikia community. However we can't allow users to fake messages from staff members saying that you've now become a staff member, as that's impersonation and isn't a good faith or constructive edit on a wiki. Staff members are chosen through a hiring process.
jhahahahahhahahahahahslkaj;dll;fds'g
Ad blocker interference detected!
Wikia is a free-to-use site that makes money from advertising. We have a modified experience for viewers using ad blockers

Wikia is not accessible if you've made further modifications. Remove the custom ad blocker rule(s) and the page will load as expected.