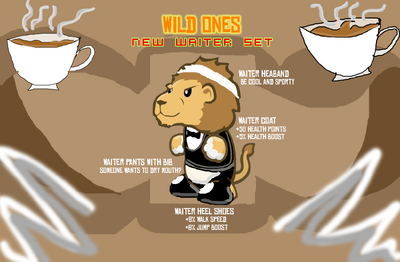 Enjoy My Set i suggested it to WO!
So RATE!!!
http://forum.playdom.com/showthread.php?98185-Wild-Ones-Waiter-Theme-QwindiQ&p=1041793#post1041793 (HERE!)
Waiter Headband
None Effect*
Be cool and sporty
2199 Coins

Waiter Coat

+50 Health Points
+5% Health Boost (NEW)
12 Treats or 25 Neighbors 9 Treats
Members 10 or 7

Waiter Pants with Bib
None Effect*
Someone wants to dry his mouth?
2999 Coins

Waiter Heel Shoes

+8% Walk Speed
+6% Jump Boost
5 Treats (Members 6999 Coins)

Coffee Cup (NOT ON PIC!!)
+10% Flame Damage
4 Treats
Ad blocker interference detected!
Wikia is a free-to-use site that makes money from advertising. We have a modified experience for viewers using ad blockers

Wikia is not accessible if you've made further modifications. Remove the custom ad blocker rule(s) and the page will load as expected.