Wild Ones: Private Wars is an artillery strategy game. It is a fan revamp of the previous Wild Ones, which has been closed down by Playdom. It was released on 1 October 2016. A beta version of the game has been released on 21 July 2016 but players must get a beta code in order to play the beta version of the game. The beta code could be obtained from the official Facebook page by capturing the bee in the right spot and screenshot it. Winners of the giveaway can have a chance to test the beta version of the game. The website of this game is http://www.wildones.pw. Just 4 months after its release, developers announced permanent removal of the game on 2 February 2017 due to lack of resources, such as people (however many people who want to play the game are unable to get into the game) and time. The source codes of the game are posted on GitHub.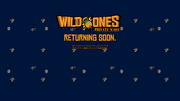 Version difference
Edit
The difference with Wild Ones is quite evident. Somehow it resembles the old version of
Wild Ones
.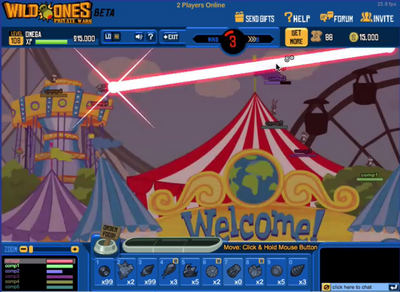 There are only 9 weapon slots, 2 of them are movement of the pet and the pet ability.
You can see the projectile angle when aiming.
The timer has numbers counting down.
Known bugs
Edit
When loading the game, it gets stuck at "90% loading". This bug still exists until the shutdown of the game.
A blank white screen appears when players log in and does not progress any further for some players.
Known workarounds (does not work for every player)
Edit
Log out the account and log in again.
Use Firefox to open the game.
Confirmed weapons
Edit
Confirmed pets
Edit
Chameleon
Penguin
Dragon (coming soon)
platypus (coming soon)
Confirmed maps
Edit
Ad blocker interference detected!
Wikia is a free-to-use site that makes money from advertising. We have a modified experience for viewers using ad blockers

Wikia is not accessible if you've made further modifications. Remove the custom ad blocker rule(s) and the page will load as expected.