"Winter Wonderblammed" is the 12th map in Wild Ones. It was released on the month of December 2010 due to Christmas.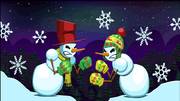 This is a special map for Christmas, just like how Foolish Errors is for April's Fools, Graveyard is for Halloween, and Chow Time! is for Thanksgiving.
It is a really problematic map because of the lack of space for mobing and shooting.
Watch out the pit between the snowmen!!!
Rabbit is recommended for this stage due to the several hard-to-reach places needed to move properly. You'll save tons of grappling hooks and teleporters!
The Snowflakes are actually Platforms
It is the first map for celebrating Christmas, the second would be Santa's Workshop.
It can be accessed if you type it's name to the private room.